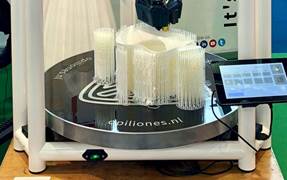 If you have some detailed sketches for a robot prototype, customized eyewear, or designer toy, 3D printing lets you turn these ideas into tangible creations. Opening your own 3D printing operation could be the way to fuse your technical and artistic skills and turn them into a profit.
Here's what you'll need to get your 3D printing business off the ground.
1.Software
There's a lot of great free open-source software out there. You might be able to rely on online shareware to complete your first few projects. However, as your business grows you'll want to invest in at least a year-one license for 3D modeling software with 3D printing features.
According to Micallef, some of the 3D-specific workflows of modeling tools that you should look for in software include checking printer models for 3D output, the ability to properly orient models on the print bed, and support generation, which ensures the model remains stable during the printing process.
Materials are an essential part of building your 3D creations. Spend some time thinking about how important strength, durability, and level of detail are to what you'll be building. Note that there's usually a tradeoff between strength and durability.
You'll want to choose a material that is sturdy, versatile, and compatible with your printer. A popular material is thermoplastic filament, with polylactic acid (PLA) and acrylonitrile butadiene styrene (ABS) as the most common types. The filament comes in a wide assortment of colors in spools, usually in 1.75mm or 3mm thickness. A spool yields roughly 400 chess pieces.
3.Materials sample kit
If you're still mulling over what kind of material you'll want to use to build your creations, you can test out a few options before committing. Besides thermoplastic, you can also make 3D creations from sandstone, metals, and ceramics. Printing with non-plastic materials is considered experimental, so bear in mind that you may get mixed results.
4.3D printer
While outsourcing your creations to a third-party 3D printing vendor is an option, you'll be able to turn projects around more quickly with an in-house printer. There are quite a few to choose from. Here are some questions to ask yourself in your search:
What's your expected volume of print runs?
3D printing takes time. If you're going to be making a high volume of one type of design and want to speed up production, be sure to look for printers that are known to have a faster processing speed.
What is the scale of the objects you want to build?
If you're printing smaller items, entry-level fused deposition manufacturing (FDM) printers can produce objects that are roughly 4" all around. For creations that are larger, you'll want to invest in a high-end filament printer, which can print objects that are about 10" x 6" x 6".
What type of material will you primarily be using?
Although the majority of 3D printing is created with plastic, there are a few printers with the capacity to build an object using other materials.
What is the level of detail of your creations?
If your objects have minimal details, then the majority of printers will suit your needs. If your creations require a high level of detail, then consider purchasing a stereolithographic (SL) printer. This type of printer uses a photosensitive resin and UV laser to produce objects that have a high resolution.
5.Training
Invest in yourself and your business by taking a 3D animation course. You can take classes online or through a visual effects tech school if there's one in your area. Perhaps there's an area you feel you could improve in, such as modelling or texture, or you just want to stay up to date with 3D animation technology. Regardless, practicing these skills in a learning environment will only help your business evolve.